Jasmine Wedding Dresses
Customize The Way You Want!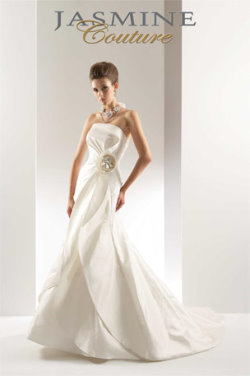 If you are looking for classic styles, beautiful lines, and impeccable designs then take a look at Jasmine wedding dresses!
You will love the fact that a lot of Jasmine wedding gowns are timeless designs!
There are a variety of designs to choose from among Jasmine bridal gowns.
If you want a slim silhouette to show off your curves... they have a dress for you.
If you like simple understated elegant designs... you will find them.
And if you like a more detailed gown with a ruffled or poufy tufted skirt… they have those for you too!
What if you see a bridal gown you like, but would like to change something or add some elements to it?
Maybe you would like sleeves or you want to take the skirt from one gown and have it designed on to a bodice of another, will they do that? Yes they will!
With Jasmine Bridal "It's the little things that count!" So they offer you these services:
Rush Delivery
Fabric Swatches
Consumer Catalogs
Extra Length and Plus Sizes
Fabric Changes
Purchase Extra Fabric, Beading and Trim
Mix and Match Tops and Bottoms on Selected Styles
Custom Measurements
They go above and beyond what is offered by most bridal designers when it comes to creating the perfect wedding dress for you! If you were impressed by these services, you will definitely like what is coming up next if you are a bride who really wants to add her own unique touch!
Check out their Customized Wedding Dress Services! It's unbelievable what they will do!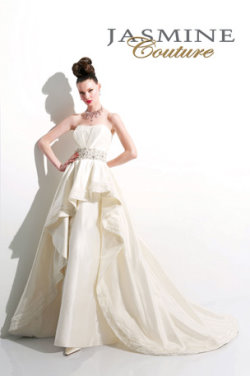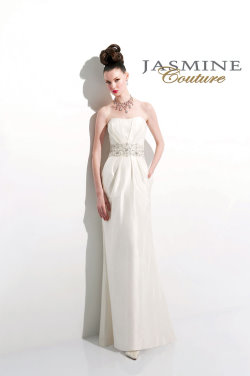 "This is fantistic! This is a convertible wedding dress! The skirt comes off giving 2 looks in 1.
"You Can Customize Your Jasmine Wedding Dress"
This is for you if you want to go a little beyond switching tops and bottoms of their wedding dress designs.
If you have been wedding dress shopping, you probably have experienced trying on a dress, which for the most part you like, except you would make one or two changes. Then the dress would be perfect! But of course most designers won't make any changes.
Here is the difference with Jasmine Bridal....
When you try on one of their gowns.... you can make the changes you want! This is a rarity among major bridal manufacturers. Usually only small design houses will give you this much latitude with their designs.

Jasmine will allow you to design your own wedding dress! Yes! Jasmine wedding gowns can be customized to your liking! They will pretty much try to accommodate you as much as they can. Not many designers will make design changes to their wedding dress collections, but Jasmine Bridal will accommodate you. What can they change...
The neckline
The train
The embroidery details on the gown
The skirt silhouette
Add and delete detail on the skirt
Add sleeves
Change the sleeve length and more…
You can also request that they make your wedding gown according to your measurements and not by their standard measurements. This will save you money on your wedding dress alterations costs!
Check out their online tools for redesigning their top selling gowns to become Temple Ready wedding dresses. Before your eyes you can change necklines and add sleeve designs.
Do the step by step process, print out the original and the gown with the changes and take it to a Jasmine Bridal Gown retailer to have your dream gown created!
Where can you buy a Jasmine wedding gown? There are bridal shops around the country that carry Jasmine bridal gowns. Go on their website and use their store locator tool to find one near you.
"When it comes to Jasmine wedding dresses… you will find in most cases you may not need to make any changes but if you do… it is nice to know that Jasmine Bridals will do all they can to make sure you have the perfect wedding dress!"

"I really like Jasmine wedding dresses! Their designs are gorgeous! And I like the fact that they will do whatever it takes to make their bridal customers happy. I also have altered their gowns and found them to be superbly made from the fabrics to construction."
To view more Jasmine wedding gowns click this link to go to their website.
Back To Perfect Wedding Dress Finder Home Page
*Click here to read our disclosure regarding affiliate and advertising sponsors.