Designers Of Maternity Bridal Dresses List

"The Pregnant Brides Guide To Maternity Wedding Gowns"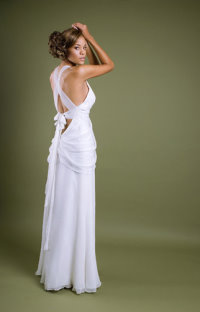 Are there maternity bridal dresses available on the market? If so, who designs them?
These are FAQ from brides who find themselves needing to find a maternity wedding gown. The answer to both questions is... YES!
Below you will find a list of wedding dress designers for maternity bridal gowns. These designers specifically design with the pregnant bride in mind.
Most styles are based on the empire waist silhouette, but there are some slim fitting styles in A-line shapes also. You don't have to have a big tent type wedding gown!
Take a look at the stylish bridal dresses available to you!
Jessica Iverson is a designer who designs maternity bridal gowns for the expectant mother. Her collection has styles that are stylish and modern. There are styles that have corset lacing for the back closure. This is both practical and adds interest to the back of the gown.
Sarah Houston is a wedding dress designer who has as part of her collection maternity bridal gowns. Her maternity designs are pretty enough for women to wear who are not expecting.
Eden Bridals has maternity bridesmaids dresses that can be purchased in white or ivory. These would work to be used as informal maternity bridal gowns.
Jordan Fashions has two piece bridesmaids dresses that they design for their maternity bridesmaids dress collection. These can be purchased in white and ivory and also used as maternity wedding gowns.
If one of the above suggested sites don't have what you are looking for and you decide to buy a regular wedding dress instead of looking at maternity wedding dresses, check out this advice on the best style wedding dresses for pregnant women.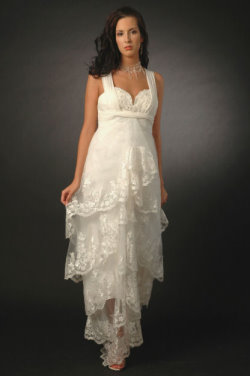 Would you like to show off your maternity wedding dress? Share with us a picture of the gown you found. Tell us about your wedding. Mention how you chose your wedding dress, where you found it and any tips you may have.
Are You A Pregnant Bride Who Need Some Wedding Dress Advice?
Would you like to receive, or give other pregnant brides, wedding dress advice? Have you encountered a problem choosing, buying, or having your dress altered?

Maybe you have helpful tips you would like to pass on to other mother to be brides about other areas of wedding planning.

Perhaps you have found your perfect wedding dress and want to show it off! Where did you find it? Then send in a picture and tell us about it!

Please feel free to share your questions, comments and tips here!
Back To Maternity Wedding Gowns
Back To Perfect Wedding Dress Finder Home Page
*Click here to read our disclosure regarding affiliate and advertising sponsors.