Second Wedding Dresses: Second Time Brides Wedding Etiquette Tips
Do you need wedding attire tips and advice for second wedding dresses since you are a second time bride?
Are you searching for information about where to find wedding dresses for a second marriage? Do you---a mature bride---need a wedding dress for your second marriage?
Those questions are among frequently asked questions from brides about a wedding dress for second marriages. The answers to these questions as well as others are answered here.
What styles are considered appropriate bridal dresses for a second wedding?
As far as wedding attire etiquette goes . . . you can choose to wear any style wedding dress you want. These days there are very few hard fast rules regarding a second marriage wedding dress.
Sometimes you will get a lot of advice based on old etiquette rules. Need some advice on what to do? Go to wedding attire etiquette faq for advice on how to handle family members who may be holding on to old etiquette rules.
---
Is it okay to wear "white" when it comes to second time wedding dresses?
Absolutely! "The color white" doesn't mean the same thing it once did with regards weddings. Long gone are the days where you were told you can't wear white. Now you can wear whatever color you choose for a second wedding dress.
It is hard to believe but . . . even the colors red and black are okay for wedding dresses these days.
---
Can I wear a traditional wedding gown with a train on my second wedding dress?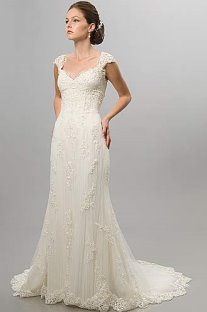 Yes you can. But . . . some etiquette experts say that second time brides usually shouldn't wear an elaborate train like a first time bride. For second wedding dresses the train should be shorter in length . . . if you choose to have one at all.
But of course you make the decision about this. If you are a bride who did not have a traditional wedding the first time, it is perfectly fine for you to choose to have the dress of your dreams the second time around, long wedding dress train and all.
---
Can I wear a veil?
Yes you can. However . . . there is an etiquette rule regarding veils. As a second time bride you can wear a veil of any length going down your back. But wearing the veil over the face is for "first time brides only."
But you know . . . most brides marrying for the first time don't wear the veil over their faces anymore. Most brides want their faces clearly seen at all times. So this is a tradition that is fading away.
---
I am looking for advice on finding wedding dresses for a mature bride. Can you give me some tips?
Most brides looking for wedding gowns for second marriages also happen to be older brides. And as you may have found it can be challenging to find age appropriate styles of wedding dresses for older brides.
There is a whole section devoted to helping the mature bride with tips and advice. For those mature brides who prefer wedding dresses with sleeves, there are tips and a gallery of dresses to choose from.
---
Where can I find a simple wedding dress or a wedding suit?
Since second time brides dresses can be the same style and color of dress first time brides would wear . . . you will have many options for finding your dress. So...
If you are looking for a simple wedding dress for your wedding for tips and advice.
If your wedding is informal and you would prefer a wedding suit for advice on picking a suit.
Of course the bridal shop will have styles that range from formal wedding gowns to informal wedding dresses.
---
Where can I find a second wedding dress at affordable prices?
It's easier than you might think to find affordable second wedding gowns. Try buying second hand wedding dresses on eBay, newspaper and online classifieds and consignment shops if you want a cheap wedding gown.
Which wedding dress designers have affordable wedding gowns? Forever Yours Bridal, Mori Lee, Eden Bridals, Alfred Angelo, Jessica McClintock and Mon Cheri are just a few to get you started.
J Crew has informal wedding dresses and special occasion dresses that can be used for casual informal wedding dresses.
Are you looking for a second wedding informal dress? Or perhaps you are looking for casual dresses for a second wedding?
You can go to the local department stores formal wear departments. Some of the larger department stores are now carrying wedding attire. Stores like Dillards, Nordstrom and Macy's have stepped into the bridal market.
Macy's sells very informal wedding dresses at bargain prices. Go to their wedding shop section on the website. You will find informal wedding dresses and wedding attire for the whole bridal party at reasonable prices.
Remember if you see a gown you want from your favorite store, you probably want to order right away. Since they are limited on their stock. Sale prices don't last long. Usually department store return policies are better than bridal shop. Read the return policy before ordering.
Try ordering bridesmaids dresses. Some designers like Mary's Bridals and Forever Yours bridesmaids dresses can be ordered in white or ivory.
For more information about planning second weddings theknot.com has a whole section about this.
Shopping For Your Second Wedding Dress
The following are links to pages where there are affiliate shops of gowns that would be great for second wedding dresses. There you can browse comparing prices and purchase if you find something you like.
*Click here to read our disclosure regarding affiliate and advertising sponsors.