The Right Wedding Bridal Bouquet Design
To Compliment Your Wedding Dress
Selecting the right bridal bouquet design to compliment your dress is essential.
Why?
Because since your wedding bouquet is an accessory, like your jewelry, shoes and veil, if it all doesn't' coordinate; it will detract from your overall look.
Your bouquet should never upstage your look.
Your wedding bouquet style should be beautiful, balanced and give a gentle appearance, and not look heavy and awkward. So picking one is not something to leave as an afterthought, but give it some careful thought.
There are a few things you need to consider before you can choose your bouquet. What are they? You must consider your:
Your Wedding Location
Your Wedding Dress Style
Your Body Shape
Whether you are planning to make your own wedding bridal bouquet or use a florist you need take into consideration the above. If you are using a florist to do your wedding flowers and your bouquet, it might be helpful if you take along a picture of your wedding gown.
Your wedding formality and location play a role in the type of bridal bouquet design you should choose. A formal traditional wedding in a grand location, will require a more formal bouquet using no more than a few types of flowers for a classic elegant look. For an informal wedding, you would have a bouquet that is more contemporary.
How To Coordinate Your Bridal Bouquet Design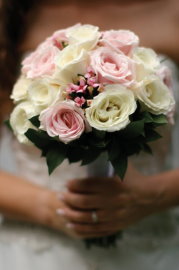 It's not hard to coordinate your wedding bouquet flowers with your gown. Just remember the right proportion is the key to achieving the proper balance.
Generally the bigger the bridal gown, the bigger the bouquet can be.
So if you have a full a-line or ball gown wedding gown silhouette, you can have a large round or cascading bouquet.
A slim wedding gown like a sheath, mermaid, slim a-line, or short wedding dress will look best with a small nosegay or hand tied arm bouquet. If using a cascading bouquet, avoid using volumes of large flowers because this will give a heavier appearance.
If you have a lot of embellishment on your wedding dress, then you want to make sure your bouquet is not to large or too busy. Also, a round bouquet paired with a slim fitting gown can emphasize full hips on a pear shaped bride.
If you are a tall bride or plus size bride, you can carry a larger bouquet. A bridal bouquet design that is too small, can emphasize your size. If you are a petite bride, you should carry a smaller bride bouquet, like a nosegay.
"The main thing you want is for your bouquet to be comfortable to carry and not difficult to handle. Remember... you have to carry that wedding bouquet for most of the day. So make sure that the shape and colors of your bridal bouquet design look great with your wedding gown!"

Related Articles
Back To The Wedding Accessories Page
Back To Perfect Wedding Dress Home Page
Bridal Bouquet Design Return to top
*Click here to read our disclosure regarding affiliate and advertising sponsors.