Casablanca Bridal Gowns
Unique Wedding Gown Styles
Have you taken a look at Casablanca Bridal Gowns? Their styles include classic traditional wedding dresses and unique wedding dress styles. Casablanca wedding gowns are on the "high end" when it comes to pricing and may not fit into your budget.
But if you really want a gown that is so well constructed and comfortable because it is designed to sculpt your body to shape the dress... then you should try this bridal gown designer collection!
"I have worked on Casablanca wedding dresses and they are very well made. Everything from fabrics, beading to underlining are top of the line! When you put on a Casablanca gown you will not see a crinkle or wrinkle in the outer fabrics because of it's inner structure. At least this has been my experience with the gowns I have worked on from this bridal gown designer."
Let's take a look at some of the collection...
Casablanca Bridal Gowns Are Attention Grabbing!
Casablanca has a lot of strapless wedding dresses in their collection, as is the case with most bridal gown designers. Based on how the models look in the pictures, some of the strapless necklines come up high on the chest for some styles. If you are looking for a more modest strapless neckline, or want to conceal cleavage, then you should check out this collection.
The gown below is an example of an empire waist silhouette combined with a mermaid style skirt. An hourglass figure body type would be best for this gown style. Usually mermaid style wedding gowns aren't the best choice for a short bride. But if you are a petite bride who wants to try out a mermaid style, you may find that this dress will work for you because it is paired with the empire waist line, which can make you appear taller..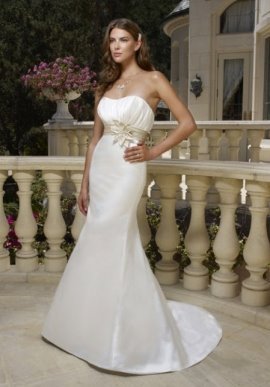 Short wedding dresses are one of the hottest trends! This is certainly a very unique style short gown with a bubble designed skirt. This is a good choice for a tall slender bride. This could be used as a destination wedding gown or as a reception wedding dress.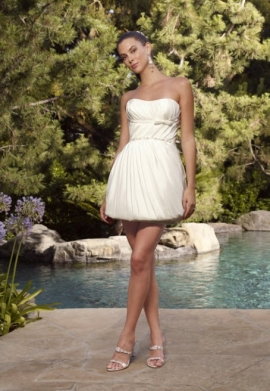 Here is a fit and flare or trumpet silhouette. This romantic wedding dress is fit for the princess bride look! The asymmetrical cut of the bodice and the placement of the detailing, makes this gown figure flattering!
Don't let the front of this gown fool you! It looks very simple and classic in the front, but has a low back. The a-line shaping is a complimentary style for most body types. The V-neckline may be a little too low and cut in too much at the armhole area for large busted brides.
This gown appears to be a sweetheart neckline. But it has an optional detachable shrug that can be ordered with this strapless gown. Also the back has a deep low back. Lace fabric always adds a very feminine look to a gown, which makes this gown a contender to be used as a vintage wedding dress.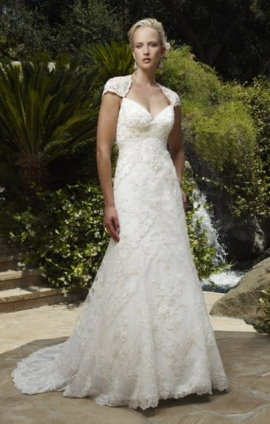 Where Can You Find Casablanca Wedding Dresses?
To see more Casablanca bridal gowns you can go to the designers website.
Want to compare prices? Check out....
Back To Perfect Wedding Dress Finder Home Page
*Click here to read our disclosure regarding affiliate and advertising sponsors.