Advice For Buying Plus Size Wedding Gowns Styles Designed For Curvy Figure Types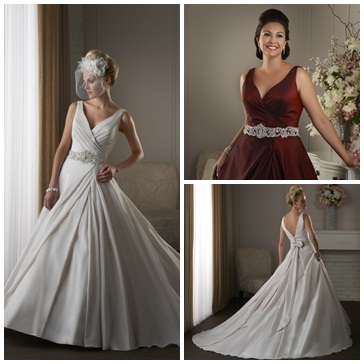 Bonny Bridal 420
Good style for pear shape body type and large bust body shape
When it comes to plus size wedding gowns, how are you suppose to pick one that's flattering to your figure when they are pictured on small models?
You will find that most manufacturers make plus size gown collections. But not all manufacturers use plus size women to model their wedding dresses.
On this site you will see a few wedding gown designers who realize that plus size women want to see gowns on plus size models.
Tips For Choosing Plus Size Wedding Gowns When Buying Online
It is a challenge for plus size women to find wedding dress shops to try on bridal gowns in their size. So how can you pick a dress that flatters your figure? Follow these tips:
Identify your body type and use the information to figure out which styles look best on your shape.
Look at real brides. Find someone who is shaped simular to you notice their style choice and how it conceals or emphasize potential problem areas.
Look at the dresses on the models. Sometimes you may notice that the model shape is similar to yours. This can help you determine how the gown will look on you..
Bonny Bridal 1410
"This dress style is best for the hourglass body type and large bust body shape. Rectangle body shape with waist cinching shapewear can make this work. "
Think about design details that look flattering on you. Pay attention to the neckline, sleeves, and the silhouette of dress styles or blouses you may have in your closet. Ask yourself these questions:
Do you look better in a V-neck, scooped, square or sweetheart neckline?
Do you look your best in an a-line, empire waist, form-fitted, fit and flare or princess seam dress silhouette?
What special ocassion or evening dress have you worn in the past that complimented your figure?
Find a wedding gown with the style details that are flattering on you in other clothing, and this will help you with picking the perfect wedding dress for you!
Bonny Bridals Plus Size Wedding Gown Gallery
Wedding dress designer Bonny Bridals plus size line is the Unforgettable collection. These gowns can be ordered in sizes ranging from 18W to 32W. They are designed to fit the proportions and curves of the full figured woman.
To help you further choose a wedding gown take a look at these gowns below. Do you see your perfect dress?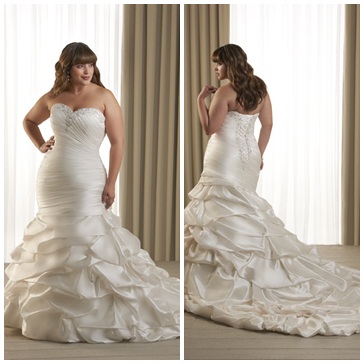 Bonny Bridal 1218
"This is a mermaid style wedding dress with a very form fitted bodice. This dress is best for the hourglass, rectangle and large bust body shapes".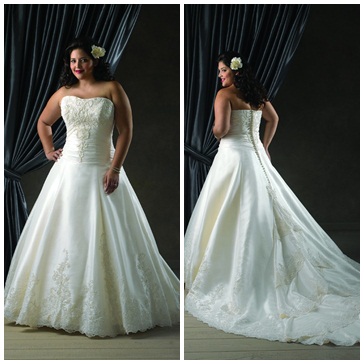 Bonny Bridal 1108

"This one will work for the large busted figure, hourglass and pear shape body shape. The rectangle and apple body shapes may pull this style off with the right shapewear garments."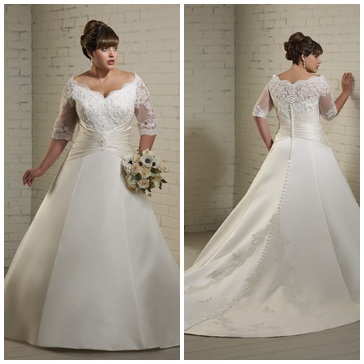 Bonny Bridal 1220
"This one is best for the pear shape body shape because the off the shoulder styling and 3/4 length sleeves add width across the shoulders which balance the bottom section. This dress will also work for the large bust figure type and rectangle type since this is an a-line wedding dress style."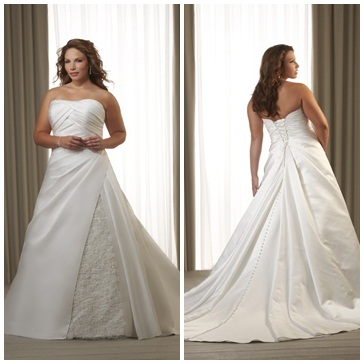 Bonny Bridal 1221
"This dress is good for the apple body shape and rectangle body type because it's an a-line with style details that demphasizes the waist and stomach area. That side slit takes the attention away from trouble spots. This style will work for the large bust figure type also. "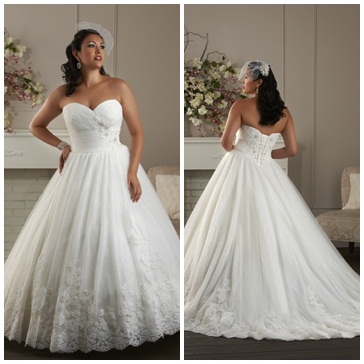 Bonny Bridal 1400
"This gorgeous ball gown bridal dress will enhance the pear shaped body shape and the rectangle shaped body. The hourglass body type can wear this dress but it doesn't show off body curves like other styles would."
Hopefully you now can see that shopping for plus size wedding gowns can be easy!
Related Articles

"Here is a link to Weddingbe.com to a page where plus size brides sent in pictures of their wedding dresses. This may be helpful to see which styles are flattering to plus size figures."
*Click here to read our disclosure regarding affiliate and advertising sponsors.