Plus Size Bridal Gowns
That Flatter Your Body Shape
Plus size bridal gowns come in an array of styles. But which style will flatter your figure? Which styles should you avoid?
These style details have been found by fashion experts to compliment plus size women.
You most likely want a dress that will not add width or weight to your figure. You want something that will be slimming to you.
The basic wedding dress silhouettes that work on most plus size figures are the princess wedding gown style, and the a- line wedding dress style.
Asymmetrical front details on plus size bridal gowns, work wonders for slimming the figure. It directs a person's focal point away from your trouble areas.
"All of the plus size brides I have worked with have all liked the way this style instantly shapes and slims their figures!"
The empire style wedding dress is also good if you don't have a prominent bust since this style focuses attention on the bust. This style is good for camouflaging a thick waist and is good for the short bride who wants to appear taller.
The sheath wedding dress will work on figures that are balance and have a defined waist. The mermaid style can work on your figure if you have the height, have balanced proportions, have a defined waistline and just a 'little' full figured.

Wedding dress tips:
Plus size wedding gowns that are
strapless
are not easy to wear and is not the best style choice for most plus size brides.
The upper chest, back and armhole areas are not areas easily toned up whether you are plus size or not. But if you are planning on wearing a strapless, "What can you do about that?"
Even though you are a plus size bride... you still can wear a strapless gown. Just make sure the gown isn't fitted too tightly at the neckline edge, especially when your dress is altered. Wearing a jacket, shrug or wrap will provide coverage if you want to hide your back and upper arms.
For tips on how strapless wedding gowns should fit when altered, click on the link to read the article.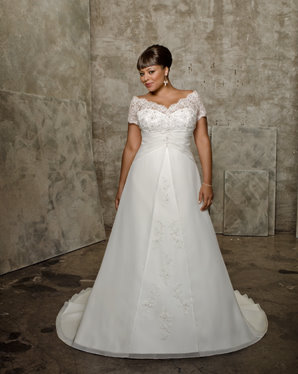 The above wedding dress is "very forgiving" when it comes to your figure. This a-line wedding dress style is great if you have a pear shaped body. The off the shoulder short sleeves balances the hips. The front panel forms an upward v-point that is slimming if you want to trim the mid-section. And for the bride who is busty, the wide v-shaped neckline is a good neckline choice to minimize the bust area. The lace overlay which will conceal the cleavage, and still gives an open neckline look. Great mature wedding dress choice!

Plus size bridal gown for sale:
If you like the gown above-- You can buy this gown for $450!!! Find out how.
"Pay Attention To The Details On Plus Size Wedding Gowns"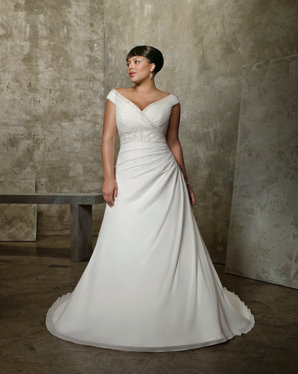 Make sure all patterns on your dress in the form of lace motif, appliqués and embroidery or attached accessories such as rosettes, are scaled to your size.
Avoid plus size bridal gowns that have details that are 'too small" because these may look to dainty for your figure. This could be in the form of tiny print or designs in the fabric or lace.
Avoid any style that adds width such as ruffles and tiered skirts on plus size bridal gowns.
Details in the bodice and on the dress near the hem add interest. If you have a prominent bust, you may not want detail on the bodice bustline area, because it will draw the focus of attention there.
"The plus size bridal gown in the picture is a great choice for the pear shaped bride and a bride with a large bust. The off the shoulder style balances the hips of pear shaped women. The surplice v- neck and off the shoulder neckline slims the bust line. The pleating over the stomach and waist area camouflages and trims those areas so that if you are a rectangle body shape you can have curves."
Choose the Best Wedding Dress Style for Your Body Shape



Next you want to determine which overall gown silhouette will enhance your figure. Knowing your body shape type will help you identify which styles of plus size bridal gowns will emphasis the positive while de-emphasizing the negative.

Most women fall in to these classifications-- click on the links below for more information.

There are two other shape types for plus size women, which are the apple shape or square shape.
The apple shape rounds out from the bust to the hips. There is no defined waistline. May also be narrow in the shoulders. Adding width at the shoulders, for those with narrow shoulders, and width at the hem can give an illusion of a smaller waistline on an apple figure with narrow shoulders.
The square shaped body is kind of boxy, with wide shoulders, no waist and squared off at about the hip level.
What are the best styles of plus size wedding gowns for these shapes? The apple and square shapes are best dressed in an a-line and princess line silhouettes.
The empire waist wedding dress style will work also if there is enough fullness to hide the waist and stomach areas. If you have a protruding stomach, this style can hide or call attention to it. It depends on the fabrics used and the placement of the raised waistline seam.

I have seen brides wear body slimmer's and waist cinchers that flattened their stomachs and cinch in the waist. It is surprising how toned and shapely a person can become when wearing a corset or the right torsolette bra.
Related Articles
Back to Perfect Wedding Dress Finder Home Page
*Click here to read our disclosure regarding affiliate and advertising sponsors.