Fairytale Wedding Dresses Fit For A Princess Bride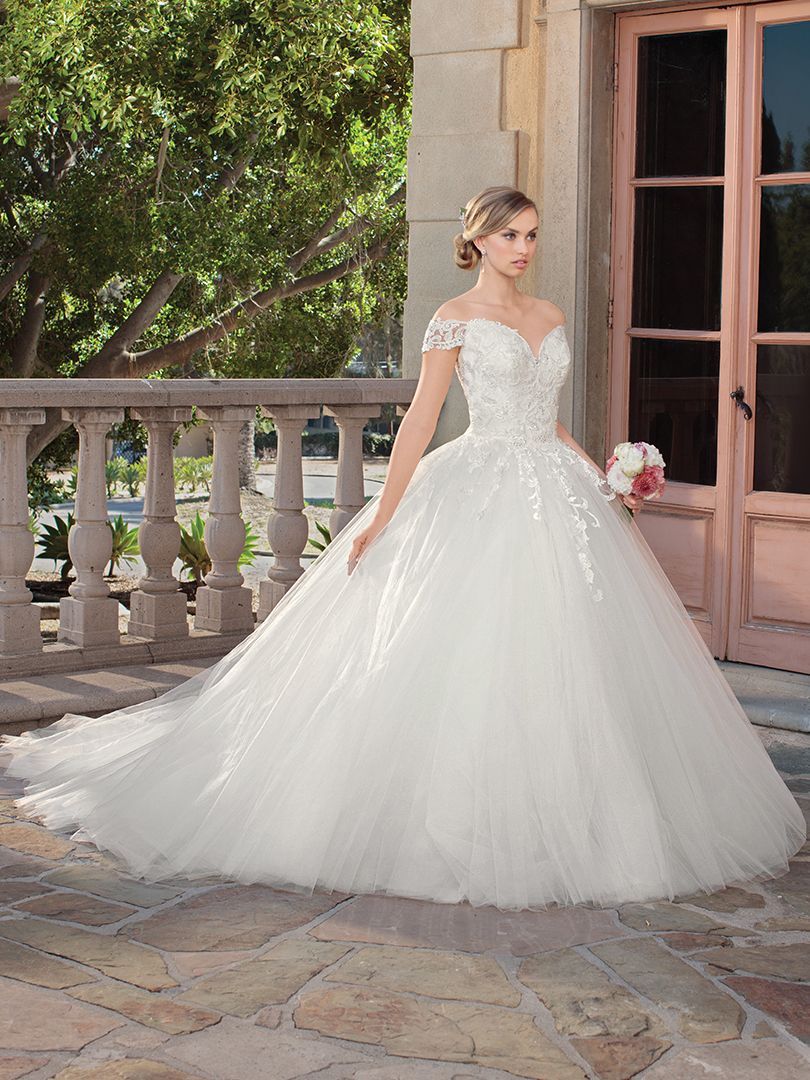 What's your vision of the perfect fairytale wedding dresses?
If you are looking for the ball gown, Cinderella wedding dresses, for your enchanted wedding theme,, then you are in the right place!
"Imagine your entrance coming down a staircase or arriving at your wedding location in a horse draw carriage."
Having your wedding in a grand way will make your wedding memorable for all. Think of using a grand ballroom or mansion for your fairytale wedding.
Why not splurge and consider having your wedding at Cinderella's Castle in Disney.
But what should you know before you finalize this style choice for your wedding theme?
Fairytale Wedding Dresses: Which Body Types Can Wear It?

So who can wear this style?
If you are tall... this dress works well because it can make you seem shorter because of such a wide skirt. It balances your height.
On the other hand, if you are short... this is not the best style gown for you. It will accentuate the fact that you are short. You can lose a some of the elegance of the gown design when the hem has a considerable amount cut off the bottom.
But if you are short and want to wear a ball gown wedding dress... then there are a couple of things you can do...
Buy the highest heel shoes you can walk in. This will give you some height to help you carry off this style.
Don't go for the fullest bell look. You can do a modified ball gown version that is less full and more a-line.

Don't buy the big bouffant slip. Buy the fullest a-line to tame the fullness.

This ball gown style emphasizes the top half of your body. If you are average or large busted... you can wear this gown. But if you are small busted it is very hard to keep this dress up if it is a strapless gown.
If you are self conscious about your bust, shoulders, neck and arms, then you may want to reconsider this style or make sure there are design details that camouflage those areas.  
Can A Plus Size Bride Wear A Ball Gown Style Wedding Dress?

YES you can IF...
You are tall or willing to wear the highest heel you can walk in. If you are short you want to stay away from this style. It can make you not only look shorter but wider.
You are average height or tall you still want to do the least bouffant look you can get by with.

You don't add an additional slip up under the gown.

Some who wear plus sizes, think getting a ball gown style is a good choice because it hides the stomach and the hips and thighs.
While it does hides these area, your overall look can give the impression of being bigger than you are. This is not any ones desired outcome.
"Here is a picture of a customer in her fairy tale bridal gown. It was not beaded, very simple, but beautiful full ball gown wedding dress.
Her gown had no slip built in it. So she used a mega full crinoline slip, the biggest I had ever seen, to get that "Cinderella" look.
She really looked like a princes!."
*Click here to read our disclosure regarding affiliate and advertising sponsors.