Wedding Dress Rental The Pros And Cons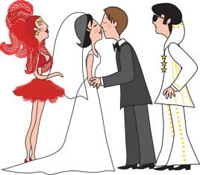 "Las Vegas Brides Like Wedding Dress Rentals"
Wedding dress rental is an option some brides consider. Why?
Most brides that consider this option are primarily looking to save money.
They feel that it doesn't make sense to spend a lot of money on a gown you will only wear a few hours.
And after the wedding they dont want to keep the bridal gown or take the time to sell it.
"If you feel the same way . . . then renting a wedding dress may be the best option for you."
Let's take a look at what's involved.
Wedding Dress Rentals---How To Get Started?
Search online under the terms wedding dress rentals and wedding gown rentals.
There may be some wedding gown rental shops online that will ship a gown for you to rent.
Usually the cost to rent a wedding gown is a few hundred dollars. It really depends on the retail cost of the gown. The price usually includes the cleaning of the gown. Ask to make sure.
A lot of places don't allow alterations at all on rental gowns. When they are allowed sometimes alterations are sometimes included but most cases they are an extra expense.
Some wedding dress rental shops require a deposit that will be refunded when the gown is brought back in good condition.
Questions To Ask At The Shop About Bridal Gown Rental
Ask them about their polices. Look at the sales contract. Read it carefully.
Find out what alterations they will allow to be made to the dress. Some might not allow any.
Some gowns begin to look worn after a few rentals. Rent one that is fairly new or have not been rented out much for a fresh look.
Shops that allow wedding gown rentals will usually have a limited stock of styles, colors and sizes. So you have to be a bride who can go with the flow.

 If you are not in average size range, your selection will be very limited.
Ask the shop if they rent accessories to go along with the gown. Some rental wedding dress shops will rent you other items such as the crinoline to go under the dress. Others may offer a package deal for the veil, slip, shoes and headpiece to be rented also.
Ask if they will press the gown for you. You dont want to have to drag it to the cleaners to have it pressed.
Inquire about their return policy. When does the dress have to be picked up and brought back? Will there be cleaning fees if they feel the dress is extra dirty?
If you are planning a destination wedding...  then you could really benefit from renting a wedding dress. You wont have to worry about how to transport a gown to your destination.
Try and locate a wedding dress rental bridal shop in the area you are getting married in.

Call to make your arrangements with them ahead of time. This way you know you will have a gown waiting for you when you arrive.
Las Vegas, Nevada is the number one destination for brides getting married. So in Las Vegas bridal gown rentals are more readily available. A lot of brides wait to find a gown when they arrive there.
Or you can go online and search using the keyword Las Vegas wedding gown rental, to locate and make arrangements ahead of time with a bridal shop.
What are the pros of wedding gown rentals?
It is usually cheaper to rent a dress than to buy one.
You dont have worry about what to do with the dress after the wedding.
If you have expensive taste you can rent a more expensive gown to wear than what you could afford to purchase.
What are the cons?
You will be limited on the styles, colors and sizes you can choose from.
If you damage the dress it could end up costing you or end up being yours.
You may not be able to choose your perfect wedding dress that compliments your figure and fits your wedding theme, setting and formality.
My Tips to You For Wedding Dress Rental
Choose a dress that fits you in the sides well so that you can avoid having this area altered. Use double stick tape in areas where the dress is just a little too big or gap.
To keep from having the dress hemmed-- find shoes that will bring the dress up off of the floor. Also adding a bridal petticoat will lift the dress up off of the floor.
Have a bustle put in to lift the train, or use the loop underside the gown to pick the dress up off of the floor. This will keep the train from getting dirty.
If a little spot cleaning needs to be done at the reception--- make sure you use baby wipes. You can use this on polyester fabric gowns. Don't use on silk fiber gowns.
Some dirt stains can be gently rubbed off with a dry cloth. Some can be removed using a little water or use a gentle soap that you would use on your dedicates will get stains out. Only try this on polyester fabrics. This could save you on having the gown cleaned.
Is wedding dress rental for you? For some circumstances and personality types this can be the perfect solution. Just weigh all the pros and cons carefully!
*Click here to read our disclosure regarding affiliate and advertising sponsors.