Best Style Wedding Dresses For Pregnant Women
"A Pregnant Brides Guide To Finding Maternity Wedding Gowns"
When it comes to finding wedding dresses for pregnant women it really depends on if the bride wants to discreetly cover her tummy or want to feature her shape with a form fitted dress.
The tips on this page will help you if you want fullness to discreetly cover your stomach.

What are the best style wedding dresses for pregnant women?

Whether you are buying a maternity bridal gown or not.. you definitely need to know which styles are best, especially if you plan on buying a regular wedding dress.
Most likely you have heard that the best style wedding dress for a pregnant bride is the empire-waist wedding dress style. In fact you will notice most maternity wedding dresses are empire waist styles.
The empire waist style wedding gown is the type where the bodice stops right under the bust area and the skirt flares out from that point.
You can see an example of the empire waist style bridal gown to the left.
When the bodice drops further down from the bustline, like any where between the waist and the bust area, this is called a raised waist bodice.
The further along in your pregnancy you will be by the time of your wedding, the higher the raised waist bodice will need to be and the fuller the skirt section will need to be. So if you will be 7 to 9 months along when you get married, the empire waist wedding gown is the best style for you.

A raised waist bodice with pleated detail at the waist of the skirt can appear to be a good candidate for a maternity wedding dress. But before ordering a regular size wedding dress that has an empire waistline... ask the merchant to make sure that the lining is as wide as the outer fabric. What happens sometimes is that the outer fabric you see is a lot fuller than the under lining. This would limit the space for your tummy to expand in the gown.
Example 1- Wedding Dress Style for Pregnant Bride

"Here is a picture of a raised waist wedding dress with slim a-line shaping with draping details in the front. The soft chiffon fabric glides over the body to conceal but not add bulk to the the stomach area. The details down the front has both slimming and hiding power! A good style choice for a wedding gown for a pregnant bride."
A-line Wedding Gowns Great Style For Pregnant Brides
A-line wedding dresses are another possible style choice. A-line wedding dresses are more form fitted and will focus attention on your stomach.
If you want to wear this style but want to take the attention away from your mid-section, then look for styles with an asymmetrical drape detail on the front.
When it comes to picking wedding dresses for pregnant women, choose styles with ruching or tucks coming from one side in the skirt because this design detail has hiding power!
The a-line style doesn't have a lot of fullness over the stomach. So this is a good choice for you if you are going to be anywhere from 4 to 6 months along for your wedding.
Princess A-line wedding dress styles with over flaps or over skirts will camouflage the stomach area. This dress style is for the bride that doesn't want a lot of excess fullness over their stomach area.
Example 2- Maternity Wedding Dress Style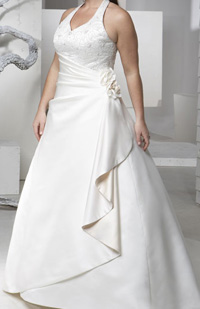 "Take a look at this princess a-line dress with over flap. This gown is a good style wedding dress for pregnant women, because it camouflages the stomach area with the pleating and over flap that also has draping which makes this very figure flattering. It has just enough details to take the attention away from your tummy!"
Combine the above styles with a corset lace up back wedding dress and you have a winning combination for a maternity bridal gown.

A corset lace up closure allows for adjusting for size changes.
To focus attention on your face and neckline areas choose interesting neckline shapes and fabrics for the bodice, like beaded laces or trims.
Example-3 Maternity Wedding Gown With Tiers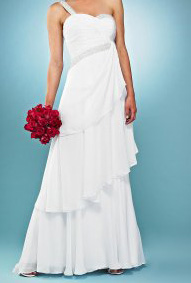 "This tiered wedding dress is perfect to use as a maternity bridal gown. The rows of tiers add fullness where you need it and the design detail adds interest that takes the focus off your midsection."
The above information will be helpful for you when choosing a maternity wedding gown and when you have to choose a regular size wedding dress to use as a maternity bridal dress.
Just remember if you buy a regular size wedding dress, for some styles, you will have to buy 1 to 3 sizes up from the size you measure for now.
If you have any questions or comments please submit them in the form below.
Are You A Pregnant Bride Who Need Some Wedding Dress Advice?
Would you like to receive, or give other pregnant brides, wedding dress advice? Have you encountered a problem choosing, buying, or having your dress altered?

Maybe you have helpful tips you would like to pass on to other mother to be brides about other areas of wedding planning.

Perhaps you have found your perfect wedding dress and want to show it off! Where did you find it? Then send in a picture and tell us about it!

Please feel free to share your questions, comments and tips here!
Dresses for Pregnant Women
*Click here to read our disclosure regarding affiliate and advertising sponsors.