Choosing The Right Bridal Bra For Your Wedding Dress
Choosing the right bridal bra, plays an important part to how you will look in your wedding gown.
Remember your bridal gown is designed based on an "ideal" set of measurements and an "ideal" body shape.
If your body doesn't exactly fit the designer's fit chart, you will have some fitting issues. The fact of the matter is that most women don't match up to these measurements.
That is why bridal undergarments, like the strapless bra and body slimmers or body shapers, are needed to smooth and mold you into shape to eliminated some fitting issues.
For some, not wearing a bra can mean the difference in your gown fitting correctly or fitting poorly. The proper bra is very important for you to have the picture perfect look and fit in your wedding gown.
Also, not being fitted in the proper wedding undergarments can add to the amount of alterations you need to your bridal gown. Don't allow this to happen to you!
This is a costly mistake! So take the time to choose wisely and have these available at your very first alterations fitting appointment.
How To Pick A Strapless Bra?
There are a lot of options you can choose from to achieve the look you desire. But it all begins with choosing the right bridal bra.
Depending on the support needed and the style of your gown, determines which type of bridal bra is needed. Some have a lot of boning and others are made of molded micro fibers. Take a look at these options.
Since the strapless wedding dress is the popular gown style of choice, I am going to talk about the styles available for that.
You need a bandeau strapless bra for a gown that is strapless and the back comes straight across or slightly dips down in the back.
Also if you are using a spandex high waist band bridal petticoat slip, the short bandeau strapless bra will cut down on the layers in the torso waist area. You will experience less bulk and will be more comfortable.
Next is the longline strapless bra that stops at your waist. Usually this one is a low backless bra that hooks near the waistline with 3 or 4 hooks. Use this one for low back wedding dresses or strapless dresses.
The next strapless bra is a called a Merry Widow or Corselet. This bridal bra is a drop-waist style that ends low enough to take in the stomach area. So if you need shaping and some tummy control, this one is the one for you. Generally this bra have a lot of boning in them to shape and support your body. But under some fabrics the boning will show, like under chiffon or other light weight fabrics.
There are some longline bras that are smooth and won't show boning. You can get a micofiber bra that is made of thick smooth fabric and molded cups. This bra may have some boning that is covered up well and will not show.
Also, lace bras sometimes have a tendency to show through under bridal dresses that don't have many layers. So you may want to pay particular attention to how dense the layers are in your gown, if you want to wear a fancy or lace bra.
Which color bra should you choose? Nude color bras are a little less noticeable than white. But the because most gowns are made with many layers inside of them, it really doesn't matter if you wear a nude, black or white. For thinner lined gowns it will make a difference which color you choose.
For deep necklines you will need a low plunging front neckline strapless bra. You could try to sew in bra cups instead of buying a bridal bra. You can have regular bra cups put in or push up cups. These are often requested by brides who need to fill out the bust area, if they want to add cleavage or just don't want to wear a bra.
Your bridal alterations specialist can sew cups in your wedding gown. This is best for brides who don't need a lot of support. If you need support a bra is the best way to go.

Here is a tip for you: "Some times the long line drop waist strapless type strapless bra doesn't come down low enough for the back neckline of some gowns. If this is a problem for you... you can unhook the top 3 or 4 rows of hooks, and tuck the ends under so that they are out of the way and you no longer see the bra."
Specialty Bridal Bras And Backless Bra Options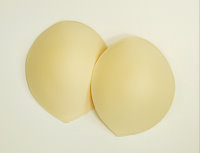 There are times you need a bra option for a backless wedding dress other than a strapless bridal bra.
For a gown with wide set straps and a deep back neckline, the best bra for this is a specialty bridal bra, sometimes called the convertible bra. The straps are narrow and are spaced wide on the shoulders and hooks low in the back.
This bra is also good for halter style wedding dresses because the straps convert to halter straps. You can use adhesive bra cups for gowns where you have a very low back or low front neckline.
As mentioned before some times you can use sew-in bra cups. But sometimes you can't use these because there is no way to sew it in and not be seen.
This is where adhesive bras and bra cups need to be used when the gown design will not allow for a bra.
But again, if you need support... this option will not work for you.
Also, there is a bra accessory available that will convert a regular bra into a low back one. This way you can wear your regular bra. This will save you from having to buy a new bra. You can find this accessory at some lingerie departments in clothing stores or contact me if you have a hard time finding these bras or accessories.
Full Cup Size And Plus Size Strapless Bras
If you are a plus size bride or a bride who needs a full cup size bra.... you may have found that finding a good supporting bra is a challenge.
Another thing that makes it difficult is the fact that you have to find a full figure strapless bra that will fit the plus size figure. Usually you need a bra with a cup size of C or better.
Don't give up hope. There are bras available for you that will give good support.
One company that sell the best supporting bridal bras for very full cupped and full figured women is Goddess. A Goddess bra supports like nothing else when you need good support.
I have seen women with large cup sizes like F and G use their bras and find them very supportive! One of my alterations clients who was an F cup size, told me that her Goddess strapless bra supported as well as one with straps! Goddess bras are a bit costly, but it is worth it if you have a large cup size.
There a other companies that put out good supporting plus size strapless bras, such as, Empire Intimates. I used to sell these bridal bras to my bridal alteration clients and they worked well.
They don't go up as high in sizing as Goddess in cup sizes, but they do go up to a size 48 DD. They have a drop-waist bra that goes down over the stomach to flatten it. It also has detachable straps that come with it.

So when it comes to picking your bridal undergarments you need to choose carefully, especially when it comes to your bridal bra. This wedding dress accessory is important to your overall appearance in your wedding gown.
*Click here to read our disclosure regarding affiliate and advertising sponsors.