Wedding Dress Alterations Tips For Tulle Wedding Dresses
Tulle wedding dresses are truly beautiful wedding gowns.
By knowing the pros and cons of wearing one before buying it can mean the difference in your having your perfect wedding dress or not!
By the way, as far as wedding alterations costs go, to alter the hem on a tulle wedding gown is pretty expensive. Shortening this wedding dress style is difficult since it has many layers.
So find out what your alterations cost will be before purchasing your dress. That way you can budget for it ahead of time.
This gown style can be cut from the bottom or the top at the waist seam.
In any case, you have to get someone who is experienced with working on tulle bridal gowns. It takes special skills to shorten a tulle wedding dress.
As mentioned before... ask the seamstress in the bridal shop for an estimate of the alterations if you need to shorten the gown and for anything else you need altered.
Now compare that price with the estimate from an independent wedding dress seamstress who has their own business.
Why consider doing this?
An alterations specialist independent of the bridal shop will usually give you the same quality or better work... at a less expensive price.
The layers of tulle like to "creep" and sometimes" bunch up." So you need someone who will attend to you to keep the layers tamed, especially at the hem.
You will notice that the hemline on this style is undefined with some tulle layers being shorter than others.
So don't expect the finished hem to form a perfectly straight line.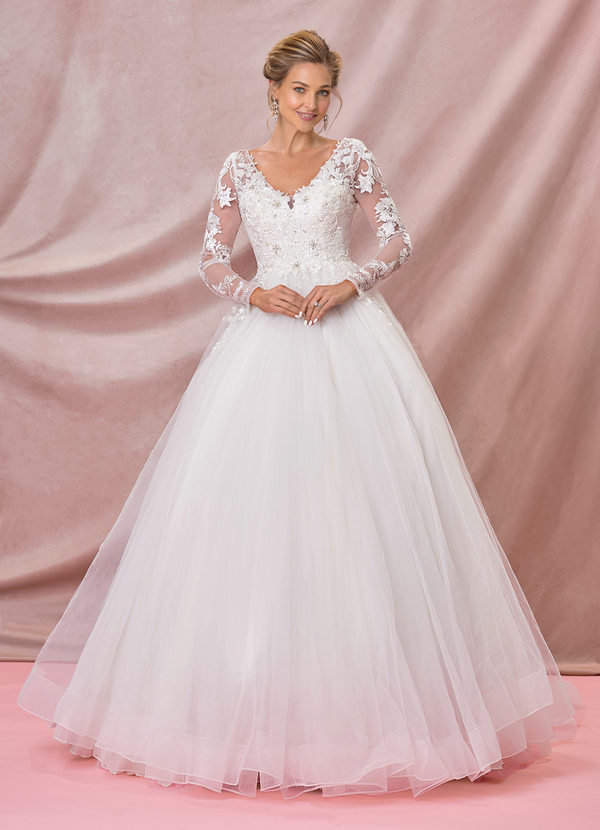 Azazie Freye
How To Repair A Tulle Wedding Dress
Brides have brought this style wedding dress to me for repair before wearing it for their wedding. Why?
Well tulle fabric rips easily. This happens more than not. What can be done about it?
Trying to repair the skirt of a tulle wedding dress is not easy to do. Most cases you have to attach an appliqué over the ripped area or take out the damaged layer.
"You don't want to know what it would cost to replace the layer!" The dressmaker can try to whip stitch the edges back together but this usually can be seen.
If the damaged layer is one of the under layers and not noticeable... then don't fret. No one will know but you.
Just remember plan accordingly for this wedding dress style and you can wear it well!
*Click here to read our disclosure regarding affiliate and advertising sponsors.