Figure Flattering Wedding Dresses With Color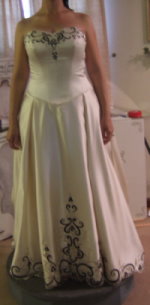 Who wouldn't want a wedding gown the focuses on the positives and hide the negatives, when it comes to your figure?
Well... you can have a dress that does just that by considering wedding dresses with color.
Generally... these are white or ivory wedding dresses with

bands

inset panels

embroidery, lace or bead work on the dress in a contrasting color
color added in the form of a sash or a belt.
The benefit of having a bridal gown like this is, by having the color contrast in certain spots, this will put the focus of attention in on specific areas of your figure.
Use this strategy to play up areas of your body that you feel are assets, while at the same time taking the attention away from your problem areas.
Below you will see some examples of how wedding dresses with color details can work to your advantage when it comes to picking figure flattering wedding dresses.
Let's look at a few examples:
Example 1 show color detail added at neckline and hem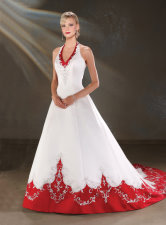 Here is a red and white wedding dress.
It has trim at the neckline and at the hem.The red trimming the neckline brings the focus of attention to the bust area.
It also focuses the attention up to the face because of the halter straps and the red color outlining the straps.

So if you want to focus attention on the bust, shoulders and face, this would be the dress for you. Or you can find one with the same type of details.
A short bride would want to avoid a contrasting border like this because it would tend to make her look shorter and wider, whereas for a tall bride this would be a flattering look.
Now let's take a look at how this wedding dress with color added in the right places can help other figure types.
If you are a rectangle body shape or an apple body shape, this dress could be flattering to your figure type. Why?
Because the colors are in places to direct attention away from your trouble areas. Plus the a-line silhouette gives you the appearance to a smaller waist.
If you are large busted and not self-conscious about your bust or worried about showing cleavage, then this gown would emphasize an area you consider an asset.
If you are pear shaped the princess a-line shape is flattering to your hips. But... the halter neckline may not be if you are small busted or narrow shouldered.
Can you now see how bridal gowns with color added can give you that extra edge to looking your best by flattering your figure?
Let's take a look at another example of how wedding dresses with color can be figure flattering.
Example 2 of wedding dress with bands of color added

Here we see a black and white wedding gown. The black trim is angled in the front to form an empire waist.
And then there are panels of black decorating the back, which adds interest to the back of the dress.
This wedding dress would be a great choice for a petite or short bride. An empire waist is known to make a short bride look taller.
If you are an apple body shape this type of gown can be flattering because the empire waist focus the attention upward instead of on the midsection. You just have to make sure that the gown is not tightly fitted in the waist and stomach area.
If you are rectangle shaped this could also be flattering to your shape as well. A large busted and a small busted figure type would have to be careful with this style because it does focus attention on the bust area.
Rule of thumb is... where ever the banding of color is... it will call attention to that area. If it is at the bust or right above it, then the focus will be on the bust and the face.
Wedding dresses with color at the waist, will call attention to that area. A band or belt can make the waist look smaller or bigger, depending on the color, the shape and angle of the belt.
Example 3 color details sprinkled strategically on wedding dress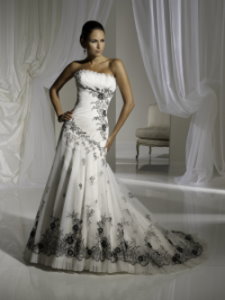 But what about a pattern of detail placed on a bridal dress? Let's take a look at this example.
Here is a dress that have pattern in quite a few places.You can see that there is pattern running under the bust and asymmetrically down one side.
Then there is pattern that forms an angle at the hip area and sparsely spaced random patterns on the skirt. and at the hem border.
The silhouette of the gown is a figure hugging style, so this is perfect for the curvy hourglass figure.
The rectangle shape figure and large busted figure may be able to pull this off also, because of the asymmetrical bodice design.
If you are have an apple shape figure or pear shaped body type, you need to avoid this dress. It is too fitted in the areas that are your trouble spots.
If you are short, you need should avoid it because of the border around the bottom, but this would be flattering for a tall bride.
Example 4 color is added with belt and sashes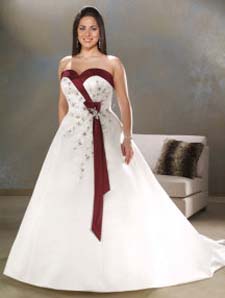 Now take a look at these two wedding dresses with color added to the waist area.
On the above dresses the sash becomes a focal point.
It adds interest to the dress and makes the eye of someone looking at you move in a vertical motion, which is slimming.

A pattern that makes the eye move in a horizontal way, usually adds width to your body shape. This is something you don't want to happen, unless you are very slender.
Can you see how this fashion strategy can benefit you, depending on where the color is displayed on the gown?
Wedding dresses with color, if chosen correctly, can flatter your figure in a way you never thought possible!
Knowing this information is so important to help you pick the perfect wedding dress. This is especially helpful if you cannot try on a wedding dress in your size or if you plan to order online.
So hopefully you can now confidently shop for bridal gowns with strategically placed color!
*Click here to read our disclosure regarding affiliate and advertising sponsors.