Backless Wedding Dresses Need Help Finding Very Low Back!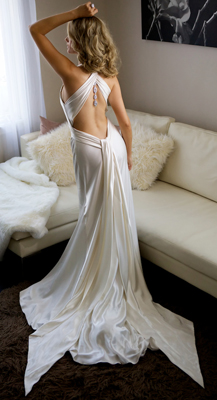 Amy Michelson Millionaire Back
"I cant' find backless wedding dresses that have a very low back. I want one that drops below the waist. Can you help me find one?"


This was a question a bride asked recently. I found plenty that ended around the waist but not many below the waistline. But as I started to look around the web, I came across the ones pictured. They are by a designer named
Amy Michelson.
Most of her collection are low back wedding gowns with most going below the waist.
Also
Allure Bridals
has quite a few low backless wedding gowns in their collection. Check out their Far and Away collection.
Join in and write your own page! It's easy to do. How? Simply click here to return to Wedding Dress Advice.
Help! Does anyone know the original designer of this dress?
by Rachelle
(Arizona, USA)
After searching forever, I found my dream dress but I can only find unreliable companies online to purchase it from. If anyone can tell me the original designer I would forever be grateful!

Can You Help Find Me A Wedding Dress???
by Carey
(WI)
I'm only 5'0 and 134lbs. I'm still working on losing another 20 lbs. But I need to at least start looking for a dress. I'm having such a hard time trying to figure out what style to get. I'm so short,and I have a bigger bust,so I just don't know where to start. I do want something simple, more of a small but pretty wedding. Any help would be great!!

Hi Carey,

I found some styles you can consider that would flatter your figure type.

This first one is a MS-M1014Z Mia Solano Wedding Gown. This is an a-line wedding dress, with a sweetheart neckline and cap sleeves.

This next one has a scoop neckline, sleeveless, a-line wedding dress with a natural waistline ED-1340 Eden Wedding Gown.

And here is another gown ED-1369 Eden Wedding Gown. This one has a V-neckline and a tank style a-line shaping.

I chose these necklines because they are considered good choices for those with a large bust. Halter style gowns with v-necklines or sweetheart necklines also work well. These neckline shapes are flattering for full busted women. But if you don't want cleavage to show you can't go too low.

The a-line gown that is not too full, is good for short brides. A narrow straight sheath wedding dress would work also. These dress silhouettes give you a taller look. A wide width gown will make you look shorter.

Notice I didn't choose any strapless necklines because most mature women like to avoid those if they can. But if you like strapless wedding gowns , make sure the neckline comes up enough to give good coverage of your bust.

Look for gowns similar to these while wedding dress shopping.

Take a look at this article for tips on how short brides can find their best wedding dress styles.

And here is an article for brides who are looking for tips for finding a wedding gown for large busts.



Desiree

Join in and write your own page! It's easy to do. How? Simply click here to return to Wedding Dress Advice.
Who designed this dress?
by Gemma
(Newcastle upon Tyne, England)
Hello there,

I have found my perfect wedding dress online, but the problem is I am desperate to avoid the pitfalls of buying a cheap online copy and keen to find the real deal. The only trouble is... I have no idea from only a picture who actually designed this dress?!!! I wondered if you might be able to help? It is listed as PS0043, but searching with this code does not show me the original designer or direct me to a reputable site.

Your help would be much appreciated. Thanks :o)

Hello,

Im not quite sure but that may be a Pronovias 2014 design.
Join in and write your own page! It's easy to do. How? Simply click here to return to Wedding Dress Advice.
*Click here to read our disclosure regarding affiliate and advertising sponsors.