Find Cheap Wedding Dresses In Wedding Dress Consignment Shops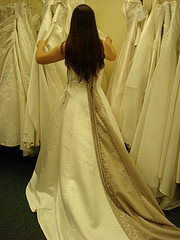 Are you looking for cheap wedding dresses? Then try looking in consignment shops! Yes... that's right a consignment shop is a great place to find a wedding gown.

More and more are popping up around the country in local communities and on the web.
Wedding dress consignment shops are the best type of consignment shops for brides to shop in because they deal exclusively in wedding attire.
Consignment wedding dresses are usually used gowns that are placed in the shop by brides.
This is also a way to get an affordable wedding dress that has never been worn at very reasonable prices.  Brides sell their dresses this way because some brides cancel their weddings or they end up with and extra dress because of buyer's remorse.
But their getting rid of a problem becomes a windfall for you!

How Do You Place A Wedding Dress On Consignment?
Are you a bride wanting to sell your dress? Then you might want to consider consigning your wedding dress. How does it work?

The bride usually is expected to share a percentage of the sell of the dress with the shop owner.

Make sure you don't over price the dress so brides looking for cheap wedding dresses will consider your gown a bargain.
Some shops allow you to set the price and then the shop takes a percentage when the dress sells.

In some cases the shop sets the price and the percentage. The shop owner will place the gown in the shop for a limited time usually six months to a year.
Before placing the bridal gown on consignment... you are expected to have the gown cleaned in most cases. You will also be signing an agreement or contract so make sure you read all the terms and note any additional fees you might need to pay.
If it doesn'tt sell... you can pick it up at the end of the contract date and again--- make sure you find out beforehand if you will be charged fees for the time it was in the shop.
How To Buy Cheap Wedding Dresses From A Consignment Shop?
If you need a designer wedding dress for less--- then consider buying one from a wedding gown consignment shop.

If you are a bride on a budget...  buying a consignment wedding dress can save you a substantial amount of money compared to buying the same dress brand new.
You will find that you can also buy new never worn wedding gowns at affordable prices. These used wedding gowns are usually in excellent condition and in most cases have already been cleaned.
Some tips for you...

Try on the dress in the shop.
 Make sure you are satisfied with the gown before you purchase it.

Usually you cannot return it once you purchase it. Some shops will allow you to exchange it, to be sure though, ask about the return policy.
Wedding dress consignment shops usually dont have a seamstress on site to do alterations so you will have to hire a wedding alterations specialist.

Ask the owner for a referral for a good dressmaker or alterations specialist to do your wedding dress alterations.

You can also ask friends and family and search online for a qualified sewing professional on your own.
So when you are looking for cheap wedding dresses, consider buying your wedding gown from the consignment shop.
Check your local area for wedding dress consignment shops and online for sources.

I have had bridal customers get great deals on wedding dresses from wedding dress consignment shops. This is the one way you can afford a top designer's wedding gown at a reasonable price. And  some of  those brides put their dress back on consignment after the wedding to recoup some of  their money. So you can do the same.
You can start your search on websites like Nearly Newlywed.com.


Mary's Designer Bridal Boutique Karelina Sposa Exclusive Gown
by Nearly Newlywed

Jasmine Couture 'TR-162009'
from: Nearly Newlywed
Consignment Wedding Dresses
*Click here to read our disclosure regarding affiliate and advertising sponsors.