Is Your Bridal Dress Too Small Or Too Big?
Re-sizing your bridal dress is what you need when...

"Your gown is so small . . . that you can;t zip it all the way up." "Or it is so big... .that it hardly touches your body anywhere."
Resizing your bridal gown is a little different from altering a gown. How so?
Usually your dress fits at least in one area but is a little loose in another. This makes it necessary to have you bridal dress adjusted by having it altered to fit correctly.
When resizing is needed, the dress is too big or too small everywhere! This involves mostly the bust, waist and hip areas. This means the gown is usually 2 or more sizes too big everywhere.
Brides encounter this problem because of size changes or the gown order comes in two or more sizes too small or too big.
"Don't worry!" "There is a solution to this problem."
How will the problem be handled?
If Your Bridal Dress Is Too Small...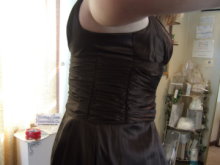 Here is an example of a gusset for a formal dress that was 4 sizes too small! You cannot tell the gusset panels are in the dress. The matching fabric and the ruching on the panel help to conceal the gusset."
Most bridal gowns can be let out one size from the seam allowance in the dress. If there isn't enough seam allowance, then gussets will have to be added to the gown.
Gussets are panels that are added to expand a garment in a given area. In the case of a bridal dress... these panels are usually placed in each side seam under the arms. The gusset is shaped like a wedge with the wide end of it in the area that you need extra room.
To make gussets inconspicuous . . . you need to find fabric that matches exactly. Usually fabric can be used from scraps left over from shortening the hem of the dress.
Also you can use fabric from the wrap that comes with the gown. Otherwise, you will need to go to the fabric store to find the closest match possible.
All details on the gown will have to be duplicated in this area to blend in. So if there is trim, tucking, ruching, beading or lace on your bridal dress near the side seams, then the gussets will have to have the same done for it.
Also the lining, underlining, and inner bustier if one is present, will have to be expanded on the inside.
Consider A Corset Back Conversion For A Gown Shat Is Too small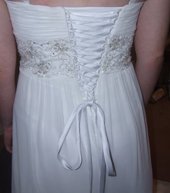 One thing that could be done in some cases is to convert the back into a corset laced opening if a zipper is present. This will work for some bridal gown designs very well.Some things to consider:

If you have enough of a gap, say about 3 or more inches that your gown will not close in the back, converting to a lace up would be a good idea.
There are kits available to make this easier to do in most wedding gown colors. Simply remove the zipper and install the kit. It usually includes a modesty panel.

You must find an alterations specialist or a dressmaker who can install a kit or can custom make the loops and lacing.
If Your Bridal Dress Is A Bit Too Big...

Having a bridal dress that is too big is an easier adjustment to do than expanding one. But this still can involve a major cut down of a gown.
Just be aware that you can only cut down a dress so far before it begins to distort the design and shaping.
In both sizing up and sizing down you are limited by the design of the gown. I have successfully taken a size 12 to a 24 and a size 18 down to a size 10.
These cases were not the usual. The design of the gown in each case worked well for this amount of change.
But not every bridal alterations seamstress can do this. You need someone with a lot of experience in doing this..
Preferably, one who has designing and dressmaking experience. These skills are especially needed when doing major size ups and cut downs.
*Click here to read our disclosure regarding affiliate and advertising sponsors.