A Halter Wedding Dress Compliments Which Shapes?
Do you have your eye on a halter wedding dress?

Which body shapes do halter gowns look best on?
Will the halter style best compliment someone who has a large bust or a small bust?
What about someone who has narrow shoulders or wide shoulders, will it compliment or be unflattering?

Can a mature bride wear this style?
"These are questions that brides wonder about when looking at halter wedding gowns. A lot depends on the halter neckline shape you choose as to whether it will flatter you or not."
What Are The Different Halter Neckline Styles

So let's first consider the different neckline shapes of a halter dress.
As you know a halter neckline is one that comes up into a strap the ties or fastens around the neck, and your back is out. While most halter styles are backless, some may have straps placed in a decorative way on the back.
But the front usually form these basic shapes...
The strap type. This is a squared off neckline or strapless type neckline with a strap width of 1/4" to 2" width, that comes up and fastens around the neck.
Cut in the bodice. This style the straps are cut in the bodice with them starting out wide at the base and narrowing by the time it gets to your neckline. You will see this in a V-neckline, scooped, and sweetheart shaped necklines.
The neckline is closed in up to the neck. The neckline is closed in all the way up to a jewel neckline or collar.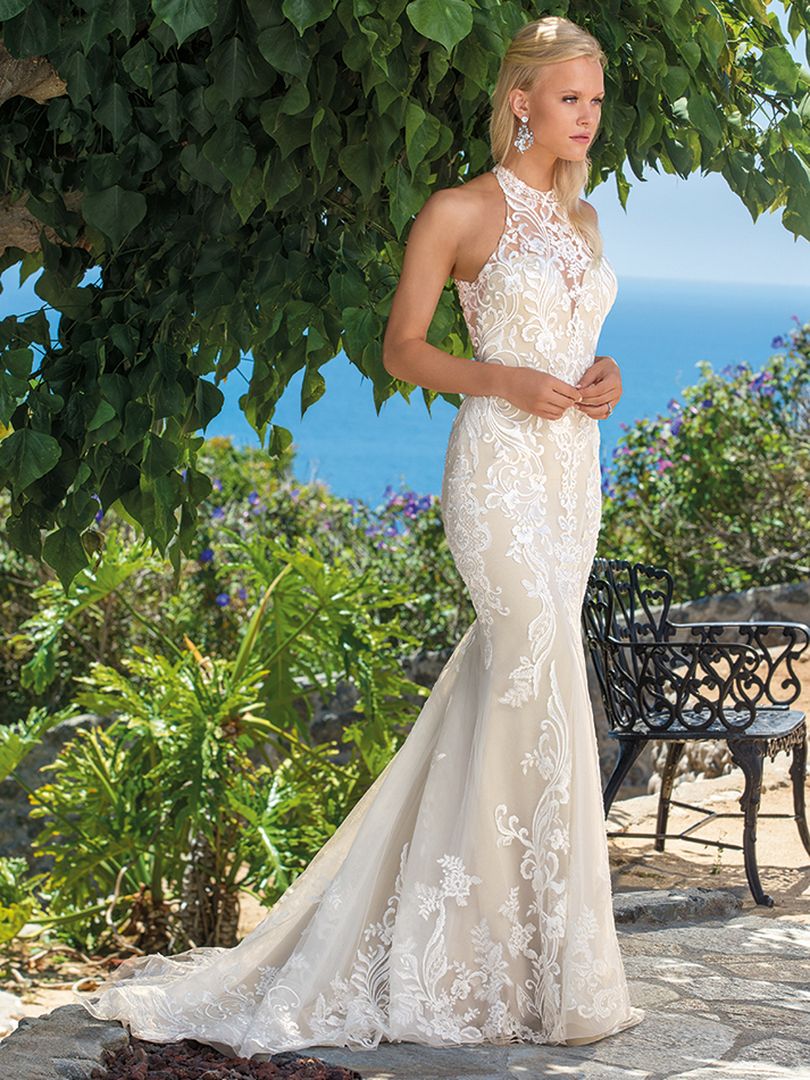 Halter Wedding Gowns - Flatters These Body Shapes
One body type that the halter neckline flatters is the large bust or prominent busted body shape.
The halter straps cut in the bodice with a V- neckline is the best shape for large busted shapes, followed by the sweetheart neckline.
lf you are concerned about your cleavage showing, you can have an modesty piece inserted across the V shaped section to conceal your cleavage, if your wedding dress style lends itself to this.
You can try out the strapless or squared off halter wedding dress styles. The one you don't want is the one that is closed in up to your neck.
This style tends to emphasis your bust area making it appear larger if a solid fabric is used.

But if a lace fabric is used as an overlay or yoke where your skin can be seen through it, this can actually be complementary look for a large bust figure type.
If you are small busted...
The halter neckline style that goes up to the neck seems to camouflage the the fact that you have a small bust.

If you want to enhance your bust area, there is something you can do. You can add cups to the gown to fill out the bust.
A halter wedding dress focuses attention on the shoulder area. So you may want to avoid a halter neckline if your shoulders are sloping or are very square.
If your shoulders are narrow... it can make them look even narrower since the angle of the strap comes inward at the neck.

A strap that comes straight up instead of at an angle, might be a better choice if you want to wear the halter neckline style.
If you have broad shoulders... the angle of the strap can narrow them if placed right. For some, placing the strap as wide apart as possible (closer to the armhole) gives a narrower appearance.
If you feel self conscious about your arms... then you will want to avoid this style since it focuses attention on the shoulder and upper arm areas.
The only figure type that has to be careful with this wedding dress style is the pear body shape.
Pear shaped women tend to be narrow shouldered and or smaller busted in proportion to their hips.
The angle of the halter wedding gown straps can make the upper part of your body seem smaller than the bottom half, which is not figure flattering for most pear shaped women.
On the other hand, the halter neckline pared with an a-line silhouette, will be complimentary on the prominent bust figure and the rectangular shape body type.
So Can A Mature Bride Wear A Halter Wedding Dress?
It depends on how you feel about yourself.
If you are self conscious about your back, arms and shoulders, then you shouldn't consider this style. Some mature brides are comfortable wearing a halter neckline, if they can wear a jacket with it.
While there are no hard and fast rules, a halter style neckline is considered a youthful style. So you want to remember that somewhere after the age of 50, people start think of a halter style as not to being an age appropriate.
If it concerns you as to what others will think about it, then you might want to pass on this style.
*Click here to read our disclosure regarding affiliate and advertising sponsors.